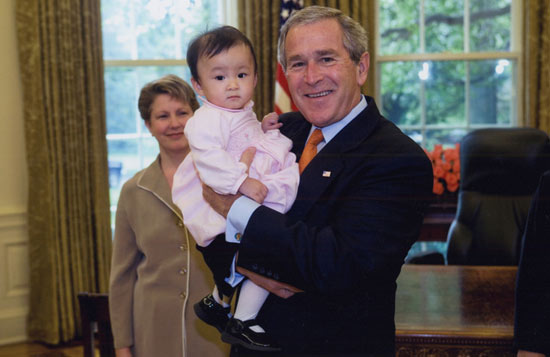 ---
[social_share/]
Read the first post in this series here.
Within a month, Chinese orphan Pu Ying Fu became Nora Moy and celebrated her 1st birthday in the Oval Office with the President of the United States.
Chinese doctors weren't sure but their best guess was September 22, 2005.  Pu Ying Fu was put in a basket and left on the doorstep of a police station in Chibi City in Hubei Province in the People's Republic of China.  There was no note, no name, and no birthdate.  Only God knows her birthparents and they loved her to enough to give her birth and then give her up in hopes for a better future for their daughter.
We travelled to China in August of 2006 and adopted her as our first child.  With the stroke of a pen and the red ink of a chop, Nora became our daughter.  Becoming a member of the Moy family included a mom and a dad, two sets of grandparents, great uncles and aunts, aunts and uncles, and more than dozens of cousins.  And the moment our plane landed in the United States, she became an American citizen.
And on September 22, 2006, she was in the Oval Office, in the White House, with the President of the United States celebrating her first birthday.  This was my departure photo with President George W. Bush, having served on his staff until September 6, when I was sworn in as Director of the United States Mint.
Clearly taken with the story of Nora's journey, the president picked her up, photos were snapped, and he quipped to her, "When you grow up and look at these pictures, either you'll be a Republican and say things started off pretty well or you'll be a Democrat and say things only got better!"  Then he told my wife Karen, "You know, the Lord always meant for Ed and you to be her parents."
While the photo of Nora and the president is worthy of bragging rights, I keep it on my smart phone as a reminder of what a great country the United States of America is.
Tags: Public Service, White House

Categorised in: Blog