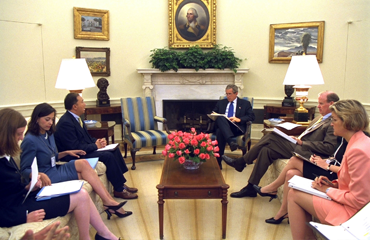 ---
The short answer is that the President of the United States needs to choose you before anything else can happen.  Every presidential administration does things a little differently but this applies in all cases.  And the candidate selected by the President is typically both meritorious (you are the best qualified) and political (you support the president and his agenda).  This selection process can take a few weeks, a year, or in extreme cases, a couple of years.
In the George W. Bush administration, our theme was "doing with you and not to you."  The White House and the U.S. Department of the Treasury review any statutory requirements or guidelines for the position.  Then we would mutually agree on the job specifications for the vacancy (coordinating with the appropriate White House policy office), which were based on what the Mint should accomplish during the president's term and what skill set, experiences, and qualifications were needed by the candidate to have the best chance of delivering those accomplishments.
The Treasury Department and the White House would mutually source candidates to build a long list, analyze and evaluate them to end up with a short list, and interview the top candidates.  Appropriate constituencies and stakeholders, both internal and external, were consulted for candidate recommendations.
There was also a consultation amongst White House offices: the appropriate policy council (Domestic Policy Council, National Economic Council, National Security Council, and the Homeland Security Council), the Council on Environmental Quality for environmental policy, the Office of Political Affairs for demonstrated commitment to the President, the Office of Legislative Affairs for confirmation issues and congressional recommendations, and the White House Counsel for clearance and legal positions.
The Treasury Secretary would work closely with Presidential Personnel, participate in the interviewing process, and when there was mutual agreement on a final candidate, it was Presidential Personnel's job to make that recommendation to the President.
To be continued…
Tags: Public Service, United States Mint

Categorised in: Blog