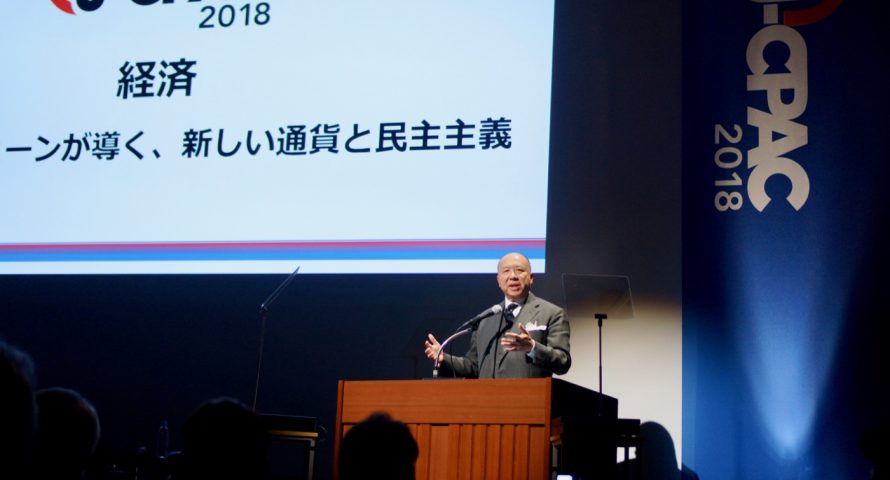 ---
Former director of the United States Mint and vocal bitcoin advocate Edmund C. Moy today warned a Japanese audience of the "disturbing trends" worldwide towards cashless societies and negative interest rates. Speaking to a conservative-leaning crowd at the J-CPAC 2018 conference in Tokyo, Moy also cautioned the blockchain industry would only become more regulated in the future, but also predicted cryptocurrencies would coexist with fiat money, giving consumers far greater choice.
Moy, known for favoring cryptocurrencies, "sound money" principles and free market economic policies via his Twitter account, was the U.S. Mint's 38th director from 2006-11. The Mint is responsible for producing coinage for the U.S. and controlling the movement of bullion.
He told the story of how he became interested in bitcoin after his staff told him to read Satoshi Nakamoto's original whitepaper, buying his first bitcoin in 2014.
His first impression was of being fascinated by the concept of transferring money over the internet without passing through proprietary third-party systems. Such a system would have the same impact on banks that email had on the post office, he said. Its peer-to-peer nature would also render it less vulnerable to theft — unlike credit cards, there was no centralized database for any hacker to gain access to.
Bitcoin also impressed him with its philosophy that money could come from a source other than government-sanctioned ones, thus breaking government's monopoly on money supply and control over how it flowed.
That would make it useful in countries with strict capital controls like China and Venezuela, Moy said, also predicting that cryptocurrency use would grow faster in places where local fiat currencies were weak or untrusted.
Money Came First, Governments Came Later
That government should produce and control money was a relatively recent concept anyway, he said. Humans made the first coins from the gold-silver alloy electrum and then each metal separately, with governments only taking control later by stamping rulers' faces on the coins and defining their authenticity.
Moy warned of two "disturbing trends" in modern economic policy beyond bad fiat currency management — the move towards cashless societies in Western countries, and experiments with negative interest rates. The former enables the latter by creating money that cannot be removed from centralized bank accounts, allowing governments to remove funds from the public's savings at will.
A policy that took money from customers' account to prop up the banking system in Cyprus was the catalyst for mainstream bitcoin awareness, Moy said. The 2013 financial crisis in that country marked the first well-publicized spike in BTC price (to just under $300 USD), setting the scene for future bull runs to ever-higher values.
"Cryptocurrency gives freedom back to the people again," he said. He said the number of cryptocurrencies available would grow and would compete with the world's fiat currencies, as well as offering other functions like investment (ICOs) and securities.
The Government Side: 'We Discuss This Issue Day and Night'
Also speaking at the J-CPAC* blockchain session were member of Japan's House of Representatives and the government's virtual currency subcommittee Naokazu Takemoto, and Gen Matsuda, CEO of OKWAVE, one of Japan's largest Q&A social communities and blockchain services firm.
The subcommittee, which now has over 70 members…
Read the full article at bitsonline.com
Categorised in: News